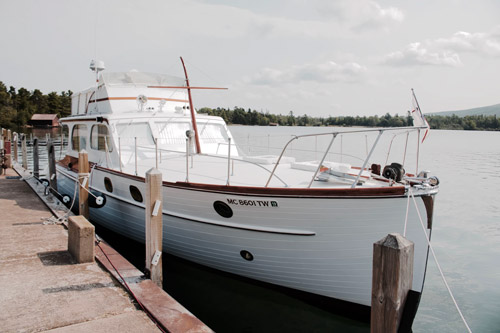 Table of Contents
There's nothing quite like hitting the open water on your boat, especially when you know how much hard work you've put into making seaworthy! Whether you love sailing or hearing the roar of an engine, a day out on the lake or open ocean is always great. But before you get out there, make sure your boat is ready for whatever you have in store, whether you're just headed out for the day or taking some time off.
If you're rehabbing a boat, the motor or sails may be on your mind a lot, but there are some other parts that will get their fair share of wear and tear: the boat hatches and gas struts for boat hatches.
1. Shopping for Boat Struts
Your boat hatches are there to ensure you're fully protected from the elements if you're just in for the night or weathering the storm. That's why it pays to invest in sturdy hatches and even sturdier gas struts for boat hatches.
Here's a simple shopping list of what you'll need:
Access hatch: Consider whether you want aluminum, polycarbonate, or stainless steel.
Inspection hatch
Gas struts for boat hatches: Remember, your boat struts will have to lift the hatches' full weight.
Weather seal
Weatherstripping
2. DIY Boat Hatch Installation Tips
Installing a boat hatch with the right gas struts and seal is easy, but it does require a bit of patience and attention to detail. Here are your basic steps for your DIY boat hatch installation:
Weight Your Hatch


Never guess or estimate when you weigh your hatch. Always get an accurate weight; otherwise, you risk injury or, at the very least, a poor installation. However, you can just use a simple bathroom scale or a digital scale to be as precise as possible.

Identify Your Upper Mounting Point


Open your boat hatch and extend it to where you'd like it supported. Mark this point for the gas strut's upper bracket mounting location. You'll want to mark the underside of the lid about a third to halfway from the hinge on the hatch's opposite side.

Mark Your Lower Mounting Point


The lower mounting point should generally be just below the upper mounting point. However, your boat hatch gas strut doesn't need to be perfectly vertical. But before you mark the spot for a lower mounting point, ensure the area has enough room for the mounting bracket or ball stud.

Measure the Area for Your Boat Hatch Gas Strut


Open the lid, then measure the distance between the upper and lower mounting points. This will indicate the length of strut you'll need when your boat strut is fully extended. To get the compressed length, measure at the same angle from your lower mounting point all the way to the rim of the compartment. Then, measure the distance from the upper mounting point to the lid's lower edge. Add up these measurements.

Calculate the Required Strut Force


Following is the formula you'll want to use to determine the required gas strut force:
Weight of the lid (Lbs.) X The Distance from The Hinge to The Hatch Center Line (in.)
3. The Best Online Store for Gas Struts for Boat Hatches and More
Lift Supports Depot is an industry-leading automotive parts retailer. Today, the same team and family behind this innovative leader has a specialized online store where vehicle owners can find just the right parts they can't get anywhere else, all at unbeatable affordable prices. We feature over 6,000 products, all backed by decades of expertise and experience. Along with gas struts for boat hatches, we lead the industry in the best line-up of lift supports for jet skis and personal watercraft, off-roading vehicles, and almost every car on the market. Read our blog for even more installation tips and find the best lift supports for your vehicle today!