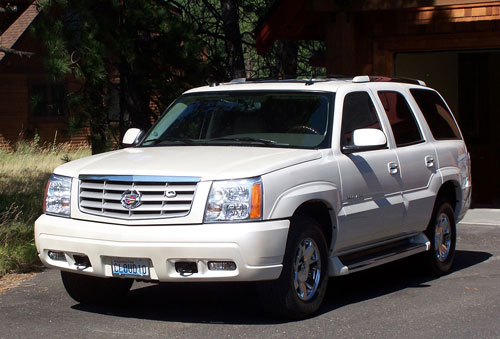 Owning a Cadillac Escalade is a major buying decision. Of course, you'll want to make sure you're getting the most for your money. One way is by making sure you're properly maintaining and caring for your Cadillac. This not only ensures that you keep its value but also means you can take pride in it as the owner. From fluid changes, brake maintenance, engine tune-ups, replacing passenger compartment air filters, inspecting and replacing spark plugs, checking tire alignment and batteries, there's a lot of Cadillac maintenance work to be done.
Whether you own a legacy 2002 Cadillac Escalade that received a more individualized design and improved luxury choices, a 2007 Escalade with the then-new 6.2 liter engine that featured valuable valve timing, the 2015 Cadillac Escalade with its refined performance, or the all-new 2019 Cadillac Escalade (available in Base, Luxury, Platinum, and Premium Luxury trim level options,) regular Cadillac maintenance is essential if you want to keep your car looking new.
Here are some Escalade regular maintenance tips to keep in mind:
1. Check and Change Fluids Regularly
Your Cadillac Escalade needs regular maintenance to keep running smoothly, and one of the easiest things to do is to check and change the fluids to ensure your car stays in top condition. Most of your car's maintenance is generally preventative, and regardless of your skill level, just about anyone who can lift a hood can check the fluids. Doing so ensures that your Escalade runs well and your Cadillac maintenance and repair costs go down.
Some of the fluids you need to check and change regularly include:
Engine oil - Check at least once a month and replace according to your Cadillac's maintenance schedule
Transmission oil - Check monthly and replace every 50,000 miles
Coolant or antifreeze - Check twice a year and replace every 2 to 3 years
Brake fluid - Check it every time you're changing oil and replace every 2 years
Power steering fluid - Check once a month and top off the levels every 50,000 miles
Knowing the basics is what matters most - the type of fluid that your Cadillac Escalade uses, the right levels of liquid required, looking out for leaks and contaminated fluid, how to refill fluids, and when you need the help of a mechanic. Of course, you don't have to do it yourself if you can pay a mechanic to carry out some professional checks. Check your owner's manual for the manufacturer's recommendations on checking and changing engine oil and other fluids.
2. Tire Alignment and Replacement
Getting regular tire alignment should be a critical part of your Cadillac maintenance schedule. This will ensure you get the best performance from your tires while avoiding preventable wear and tear due to misalignment. If you're feeling your Cadillac being pulled one way or the other when driving or experiencing unusual tire wear, it's time to get your tire alignment adjusted. This should be a priority during your Escalade regular maintenance visits.
Your tires are what keeps your Cadillac Escalade moving, so you'll want them to be well balanced and in great shape. Rotate your tires at least every 7,500 to 12,000 kilometers. When it comes to replacing your tires, you need to watch out for some signs of wear and tear, such as fabric or cord showing through the rubber, cracked treads or sidewalls, or cut, bulging or split tires. When it comes to replacing your Cadillac tires, replace all four wheels at the same time.
3. Check for Brake Wear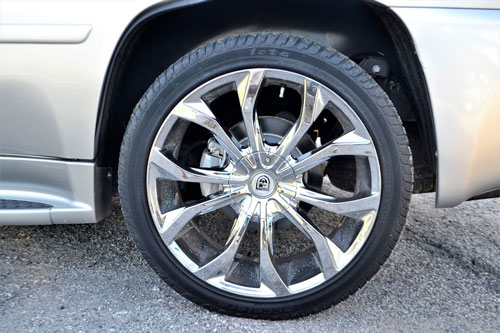 Your Cadillac's stopping power is crucial to your own safety and ensures a successful driving experience. Brakes form an integral part of creating an all-around performing vehicle. Most Cadillac owners tend to neglect brake performance in their Cadillac maintenance schedules. A mistake of failing to keep the right power-to-stopping ratio can prove disastrous. Keep in mind that a few feet of proper stopping can be the difference between swerving or crashing your car.
When you need to stop, the last thing you want is to start second guessing if your car's brakes are working properly. Some of the signs of brake wear in your Cadillac Escalade include grinding, chirping, or squealing noise, or even having difficulties trying to stop your car. Upgrading or even replacing your car's brakes should not be a complicated procedure, so long as you have an experienced mechanic at hand.
4. Inspect Your Car's Belts and Hoses
Your Cadillac is equipped with several belts and hoses to ensure that it runs smoothly. These include the brake fluid hoses, serpentine belt, a/c belt, radiator hoses, and coolant hoses. When they stop working properly, or break or start leaking, you'll need immediate repair work, which can be costly. That's why focusing on preventative Cadillac maintenance is recommended.
Always inspect your car's hoses and belts regularly to ensure they're in good working condition. Some of the signs to look out for include worn, soft, cracked or blistered hoses. Also, check for any loose or slipped belts. Have your mechanic check your hoses and belts at least two or three times a year or during any major Escalade regular maintenance schedule.
5. Make Sure All Lights are Working Properly
When you're driving in bad weather and there's limited visibility, you want to be sure that your headlights, fog lights, tail lights, brake lights, reverse lights, dashboard warning lights, and indicators or blinkers are bright and working properly. Every light plays a critical role in safe driving, as the chances of being involved in an accident increase significantly if you can't see or be seen. As you drive, it's easy to notice a light that isn't working. Make sure to inspect all lights by stepping out of the vehicle if necessary and replace those that are out.
6. Inspect Your Windshields and Wiper Blades
As part of your regular Cadillac maintenance, make sure that your windshield is always clean and clear of any cracks and scratches. This will ensure you enjoy the best view of the road when driving. Look out for any cracks, scratches, and water leaks and have them fixed by your mechanic. Your wiper blades should also be in good condition so you can have a clear view when driving in wet or bad weather.
Signs of damaged wiper blades include skipping across the windshield, streaking, squeaking, smearing or split or worn rubber. Replace them every six months to one year, or as soon as you see a change in driving visibility.
7. Check Your Battery
Your car's battery is crucial in starting the engine. Failures to start your Cadillac or breakdowns can be easily avoided by having a well-maintained battery with full cranking power. Do a visual check to see if there are any powdery deposits on the terminals and clean them with a metal brush, used toothbrush or old rag. Look out for any corrosion, cracked casing, and frayed cables too. Have the cables replaced immediately if they are damaged and consult your mechanic or replacement procedures based on the Cadillac maintenance schedule.
8. Inspect and Replace Your Lift Supports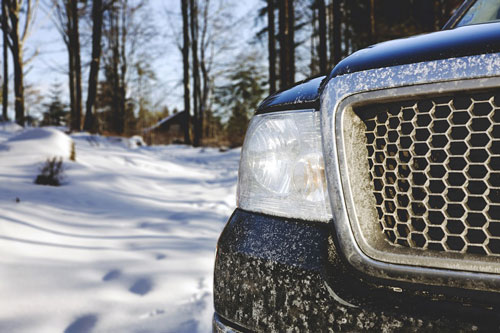 It's no secret that simple things we all take for granted in our cars, such as the hood and liftgate lift supports, offer a great deal of convenience in our day-to-day lives. To ensure that they continue to work well, it's important that you test and inspect them regularly. In case you have trouble lifting your hood or truck, it may be time to replace your lift supports. Damaged lift supports can be a risk. So embrace a multi-point vehicle inspection routine to ensure everything in your Cadillac Escalade is working smoothly.
Buying lift supports online is the easiest way to go. Lift Supports Depot offers the world's largest selection of top-brand lift supports for all types of car makes and models, including the Cadillac Escalade. Find the lift supports you need by car model, part number, size, and other specifications. No matter what you drive, find the gas struts and springs you need online. Contact us now.