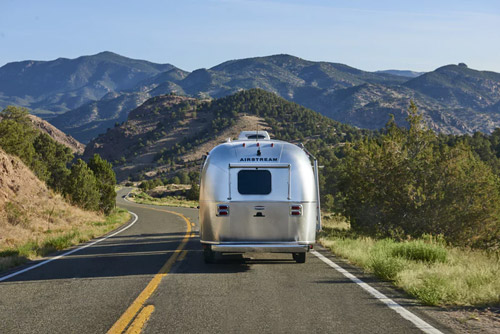 Whether you're prepping for your dream life on the road or just getting ready for a summer trip, there's always something you can do to customize your RV and get it ready for anywhere you're headed.
Ultimately, you should find stuff that puts the "home" in motorhome accessories. You may not be spending a ton of time there, but you'll likely be clocking a lot of miles in it. So, with that in mind, let's take a look at some great upgrades you can make that can make your ride more comfortable and enjoyable.
1. Stabilization Rods
Depending on where you're headed, you'll want to invest in stabilization rods that keep your vehicle level. These types of motorhome accessories are usually pretty affordable, but you should make sure you're buying from a trusted vendor. After all, stabilization rods are meant to keep your RV stable anytime it's parked at your campsite.
2. Bumper Mounts & Brackets for Bikes, ATVs, and PWCs
If you're not towing a car but looking for a great way to store bikes, ATVs, and personal watercrafts, then a bumper mount may be just what you need.
These are also perfect for storing extra large bags and even small boats and kayaks. Go for a bumper mount that can hold up to 600 pounds or more. You never know when you'll need it. Just be sure to get the best mounting brackets, too!
3. Improved Storage Solutions
Your home away from home should be as comfortable as possible, and it's hard to make that happen if you're constantly tripping over everything!
Overall, here are some good tips for customizing your RV and some motorhome accessories that'll save space where it matters most:
Get stuff off surfaces with a swivel drawer
Put hanging dividers in whatever closet space you have.
A sturdy Wall-mounted clothes hanger (or anything wall-mounted) is your new best friend.
Plastic storage bins keep all those small bits organized (and visible!)
Get yourself a great tool box and keep it handy. You never know when you'll need it.
Collapsible hampers and laundry baskets can save you a ton of room.
In terms of shelving, consider any open vertical space fair game as long as it's not obstructing sight lines or getting in your way when you're just trying to relax. The best thing you can do here is put up some wire shelves. They're super easy to install and you can use them anywhere from your kitchen area to the bathroom, bedroom, and the main living space.
4. More Interior Design Hacks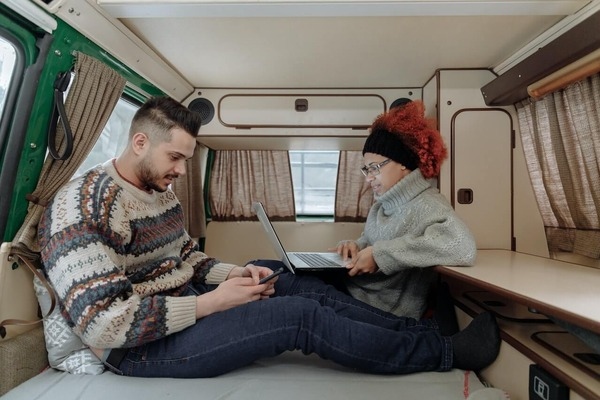 Depending on what make and model you're riding around in, RV interiors can range from pretty bare bones units made for camping to all-out palaces on wheels. Most people's RVs come pretty standard, though, with dinette booths, upholstered seating areas, captain's chairs, kitchen cabinetry, and tiny bathrooms.
You'd think there isn't much you can do here, but there's a whole new generation of people ditching the standard 9-to-5 in favor of working remotely and "living the van life" like a new-age nomad. And if you customize your RV, it's pretty easy to get comfortable doing just that.
5. Get New Laminate Floors
No matter what your RV looks like, your floor is likely to take quite a beating. Every so often, you should consider replacing the flooring. Installing wood is a great, and cost-effective way to get the look of real wood at a fraction of the price.
Be careful, though. Some laminate floors are known to contain formaldehyde. Cutting laminate your floors on your own in an unventilated space can be pretty dangerous since you run the risk of releasing formaldehyde vapors into the enclosed space of your RV. So, be sure to consult a professional or read up on how to install laminate floors safely.
6. Paint or Wallpaper Your Walls
If you know your way around a paintbrush or have an eye for accent walls, you'll love this DIY project. Repainting or wallpapering is a great way to customize your RV and set the stage for super personal motorhome accessories and decor.
When it comes to small spaces like these, go for brighter, less saturated colors. This will give you the illusion of wider, more open space no matter what you're working with.
Hit the Road!
For over 40 years, Mr. Lou's Stuff has been an industry leader in retail auto parts. Today, our same family and team has a specialized eCommerce store featuring the best line-up of parts that are notoriously hard-to-find, all at unbeatable prices.
In fact, you'll be hard-pressed to find prices lower than ours in big box stores, and all of our products are backed by years of expertise by auto and RV enthusiasts just like you.
Aside from featuring the best motorhome accessories to make your ride smooth and comfortable, we also have a wide variety of gas struts and lift supports for every type of vehicle out there from boats, jet skis and personal watercraft to off-roading vehicles, and almost every makes and models of cars on the market.
Read our blog for even more travel and customization tips, and check out our online store if you're ready to start shopping!