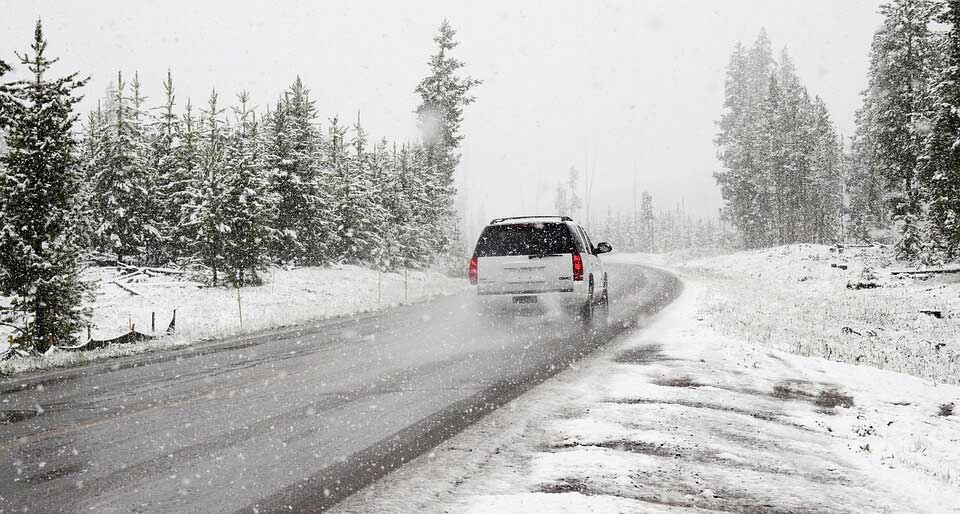 Table of Contents
With freezing temperatures, low sunlight, early nights, and slippery road conditions, there's no doubt that driving in the cold of winter can be daunting. While this chilly season means spending more time indoors, it doesn't mean your car has to be in deep freeze until winter is over. Snow, ice, cold temperatures, and slush can pose many challenges when it comes to driving your car safely, but thankfully, there are several steps you can take to prepare your car for winter and ensure your car operates successfully throughout the winter months, making driving safe and stress-free.
Learning how to prepare your car for winter is important for every driver. Here are seven simple but often overlooked things you should do to ensure your ride is ready:
1. Stock Up Your Winter Supply Box in Your Car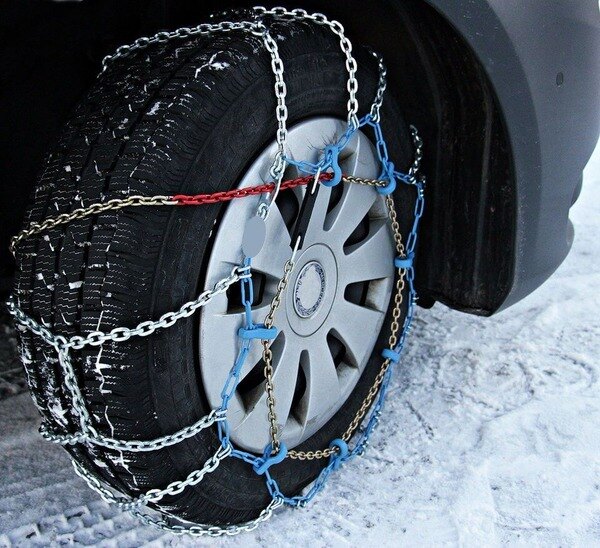 When cold weather comes, and you begin to prepare your car for winter, you need to be well prepared for any emergencies that could happen while driving. Having a fully-stocked winter supply box, separate from your normal emergency car kit, is crucial for your personal safety and your car. Some of the items you need include:
A bright flashlight and extra batteries
A fully stocked first-aid kit
Road flares
A few warm blankets and extra pairs of gloves
An extra pair of boots
Extra warm clothes
A fully charged cell phone with an extra car charger for 911 calls
A Radio
Tire chains
An extra ice strapper
A bag of sand that will help with traction, and a small shovel
Some high-energy snacks like jerky or nuts in the glove box
Driving in the winter always comes with different hazards, and the cold can affect your vehicle. With some preparation and awareness, you can prepare your car for winter and ensure that your vehicle is ready to handle any emergency, so long as you have a well-stocked winter supply box.
2. Have Your Mechanic Inspect Fluids, Hoses and Belts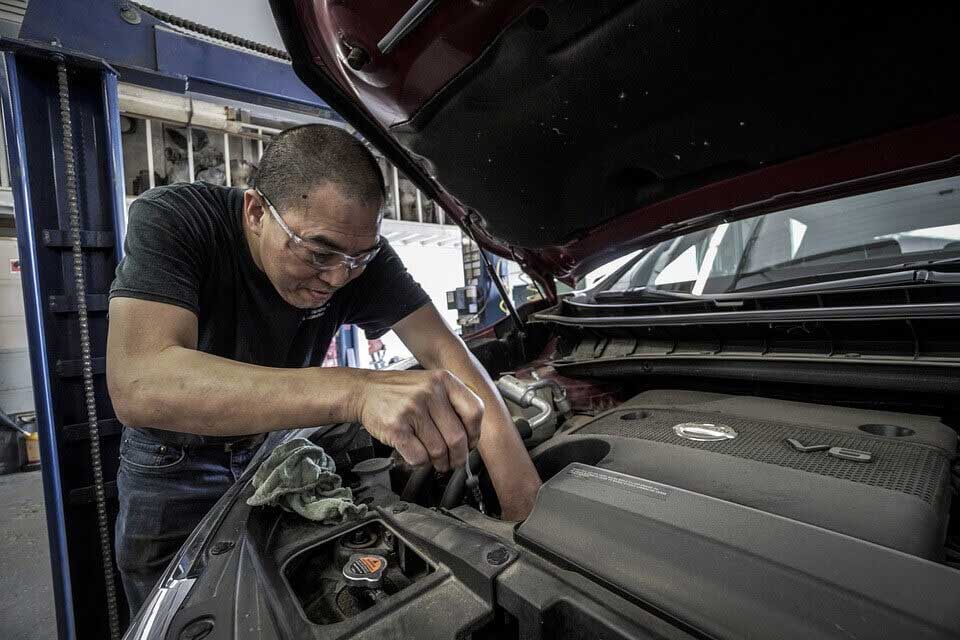 The cold winter temperatures can be brutal on your car. If you have a worn belt or a cracked hose, the frigid air may be the final blow. The last thing you want is getting stranded on the roadside with a raging blizzard just because you didn't have your car checked in time. When you prepare your car for winter, do yourself a favor and have your mechanic inspect your car thoroughly before the winter season. This is a priority when it comes to learning how to prepare your car for winter.
One of the most important things to check is your fluid levels. Most drivers will go all year without ever checking the levels of their engine oil, coolant, antifreeze, or even wiper fluid. Your mechanic will prepare your car for winter by checking for fluid leaks and inspecting belts, hoses, and other car parts to ensure your vehicle is tuned up and in good condition. Your mechanic will also recommend the best winter-grade oil to use as well as antifreeze to ensure your car runs smoothly.
While regular visits to a mechanic are always recommended, you should also check other car parts and accessories to ensure that everything is working fine. For instance, checking and ensuring that your trunk lift struts, hood lift supports, or even liftgate supports are working can be a lifesaver when you need to quickly and effortlessly get that emergency kit from the trunk or open your hood to jump-start your battery in the cold weather. Also, make sure that your car's heating system is working properly and you have some extra floor mats to increase warmth.
3. Check Your Tires
During the winter season, your car tires need to be at their best. To properly prepare your car for winter, you'll want to switch to winter tires with the right tread depth to ensure proper grip, especially if you're in an area with severe winter weather or will be racking up a lot of winter miles. Make sure that the tires are also properly inflated, including the spare wheel, as low tire pressure can significantly affect your car's handling on snowy or icy surfaces.
Follow your car's manual recommendations for tire pressure levels. Whether or not you already have winter tires, consider switching. Ensure that your tires are in good condition with a tread of at least 2/32 of an inch or greater on all tires. If you're not sure how to prepare your car for winter, always start with the basics — read through your car's manual.
4. Inspect Your Wipers and Replace Them if Damaged or Cracked
Damaged, cracked, or worn wipers are a danger when driving in winter or in bad weather. As you prepare your car for winter, ask yourself if your wipers will be able to handle the hail, snow, road salt, and other debris when driving in the winter. If not, you need to replace them immediately. Experts recommend that you install heavy-duty winter wipers if you live in areas that get lots of snow and ice. You should also check that both your front and rear window defrosters are in good working order. Also, make sure that you use the recommended winter windshield fluid.
5. Test All Your Lights and Signals
Test your headlights, taillights, brake lights, emergency flashers, interior lights, and signals to be sure they're working properly. Make sure that every light in your car is clear enough when driving in the snow. Keep in mind that you should have your dim lights on when driving in adverse winter conditions and at night for your own safety. If some of your lights or signals are dim or flickering, make sure to replace them as you prepare your car for winter. You don't want to risk your life driving with one working headlight or malfunctioning signals during the winter.
6. Inspect Your Car's Battery
Inspecting your car's battery to make sure it's in proper condition is an essential step in preparing your car for winter. If you're often having trouble starting your car the first time, it's time to replace it, especially if it's about five years or older. Also, check the connection points of your battery for any signs of corrosion. You can clean the terminals yourself by disconnecting the battery (remove the black negative connection first, followed by the red positive) and then use a saturated mix of warm water and baking soda to scrub both terminals with a wire brush or old toothbrush. When reconnecting the battery, connect the positive terminal first, followed by the negative.
7. Clear Off All the Snow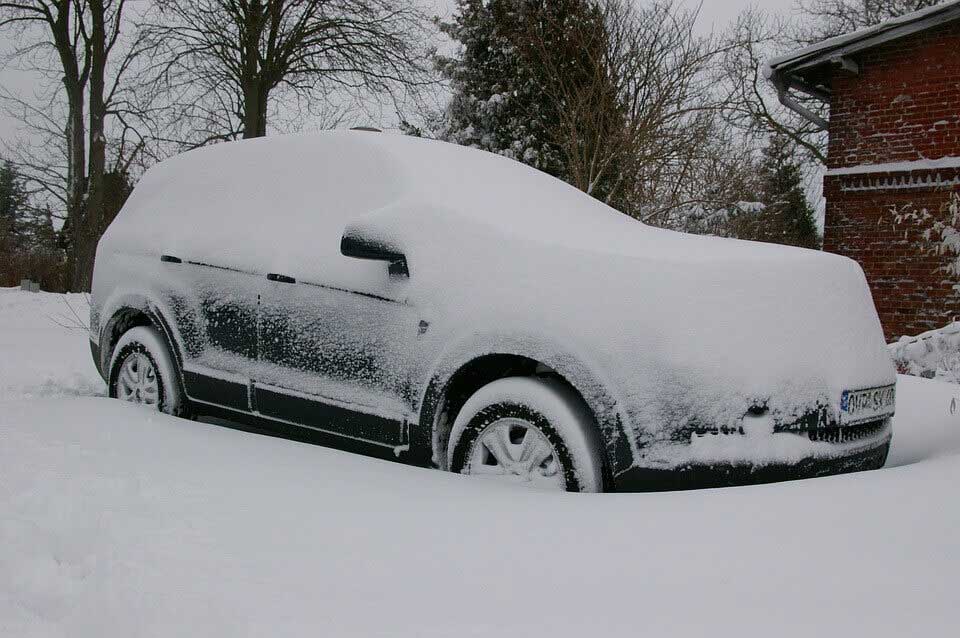 It's common for drivers to drive off after clearing only the snow on their windshields. This is not safe for you or other drivers on the road. Make sure all snow is cleared from the entire windshield, roof, rear window, lights, and trunk. The snow can slide forward when you brake and hamper your visibility or backward into the path of other cars, causing a risk that can be easily avoided.
Get Your Car Ready for Winter
Learning how to prepare your car for winter should not be complicated. Planning ahead and embracing some preventative maintenance tips for your car before winter comes is the best way to ensure safe driving in adverse weather conditions. Simple accessories like an extra shovel to get you out of snow or even a trunk lift strut for your large SUV can be the difference between getting yourself out of a tricky situation in blizzard conditions and getting stuck in bad weather.
If you're looking to replace your car's lift supports in preparation for the winter months, look no further than Lift Supports Depot. We bring you the world's largest selection of lift supports from globally leading brands and can help prepare your car for winter. Learn more at our online store.