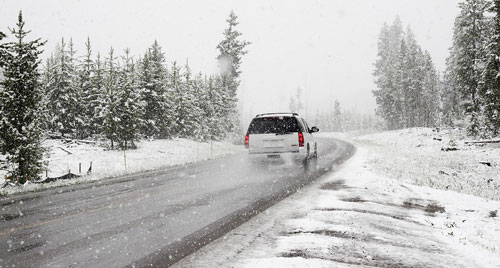 Driving through winter comes with a number of challenges. From sub-freezing temperatures to snowy storms, winter conditions can make it more difficult to drive your Chevy Suburban and get to where you're going safely on the way. Despite the challenges, the Suburban, one of America's best-selling full-size SUVs is a capable vehicle that offers ultimate SUV versatility, truck utility, and all the fine refinements you would expect in a modern luxury car.
Despite its impressive reliability and performance, preparing your Suburban for the winter can make a huge difference in how well it holds up when driving over the winter months. The last thing you want is to get your Suburban stuck in snow and be unprepared or let icy streets, cold temperatures, and salted roads to affect your vehicle and driving experience.
Here's how to prepare your Suburban SUV for winter conditions like snowstorms:
Get Your Car Serviced
If your Suburban is due for service, it's wise to do it before winter sets in. Cold temperatures are one of the leading causes of mechanical problems during winter. Mechanical experts will tell you that up to 50% of them can be easily prevented if car owners take their cars to the mechanic for regular servicing and maintenance checks before winter comes. In fact, many garages offer free or even discounted winter car checks that you can advantage of.
Stock Up Your Winter Breakdown Kit
This is one of the most important things you can do for your car, personal, and family safety. Stock up a box full of winter breakdown supplies in your SUV truck for dealing with unexpected challenges due to extreme snow conditions or blocked roads. Having the right supplies like a torch, shovel, high-visibility vest, blanket, scraper and de-icer, snow grips for shoes, extra food and drink supplies, screenwash, road flares, extra warm clothes, a first aid kit, extra pairs of gloves, a fully charged cell phone, and a small radio, can make all the difference.
Check Your Tires
Ensuring your tires are in good condition is key staying on the road and driving safely during winter. Do your part by checking your tire pressure and tread depth to ensure your tires are safe for driving. Mechanics recommend a minimum of 3mm in tread depth during the winter, compared to 1.6mm for normal driving, as you'll need better grip for your Suburban to drive safely in the snow. If you live in an area where you experience extreme winter conditions, you can switch to winter tires.
Inspect Your Engine Coolant and Add Antifreeze
Check your Suburban's fluid levels, particularly your engine coolant that should be topped up with antifreeze to protect your engine from freezing during the cold winter months. Without antifreeze, your engine could freeze at a critical time when you don't want to be stranded in snow simply because you failed to check your coolant and antifreeze levels for your SUV. Make sure to follow your car's manual for instructions on the appropriate coolant mix.
Check Your Battery
A good battery is a must-have and should your top priority as you prepare your Suburban for the winter. Cold temperature often affects your battery's output. Considering that you'll be using your car lights, heater, and blower more frequently, your battery is likely to be under strain. A quick inspection by a mechanic will determine if it's charging properly and holding charge effectively. If you regularly experience starting problems, have your battery checked out or replace it if necessary. Car batteries typically last around 5 years.
Check and Clean Your Lights
Your lights are critical, especially when you consider the low visibility challenges that the winter snow poses for Suburban SUV and other car drivers. Check all the lights to be sure they're working properly, including full-beam headlights, fog lights, brake lights, rear reflectors, and indicators. Also, make sure they're clean and that there are no dim lights, blown bulbs, and cracked lenses. For dim or non-functioning lights, have them replaced before the winter.
Install New Wiper Blades
It's advisable to replace your wiper blades and install new ones in preparation for driving in the winter. Weak, loose, cracked or damaged wiper blades can be a huge risk when driving, as they'll likely fail to work as expected when driving in snow or a blizzard. Also, inspect your windshield both inside and out, and then top up your washer fluid with winter antifreeze fluid. This will help loosen the ice and snow on your windshield, ensuring clear visibility when driving.
Be Prepared for Longer Journeys
You never know what to expect ahead when driving your SUV in the winter. Normal trips to work and back home will take longer as you'll be driving slower than usual to ensure your own safety. Before setting off on longer journeys, make sure to check the weather forecast in the area, watch travel news, and check the safest routes to take. Allow some extra journey time when traveling in your Suburban SUV for the sake of recovering lost time when you get stuck in snow or find some traffic due to unavoidable winter-related circumstances on your way.
Check Your Lift Supports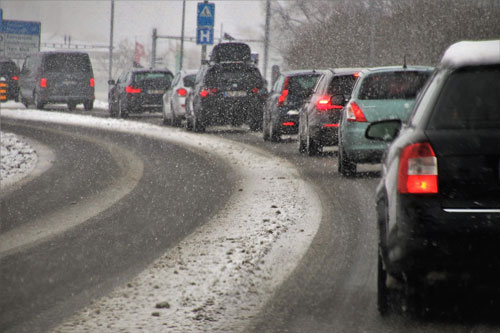 You should also inspect your car lift supports to ensure they're working properly. You don't want to get stuck out there in your Suburban in snow and have no way to access vital supplies in your trunk because you lift supports are no longer working. Follow these simple lift support safety precautions:
Inspect your lift supports daily
Replace damaged ones with O.E.M parts
Do some regular maintenance by wiping off dirt on the hydraulic rods with a dry cloth
Follow the recommended general installation instructions
If you're looking to replace your lift support, look no further than our selection of top-brand lift supports at Lift Supports Depot. Contact us for more information if you need help with selection.
The Bottomline
Preparing your SUV for snowstorms and other winter conditions is a safety priority that every Suburban owner must take seriously. If you need help preparing your car for the winter, we would love to help by ensuring you get quality replacement lift supports.